Semi-automatic universal foam generator TRITON 5Ì

Video of the equipment in operation
Download video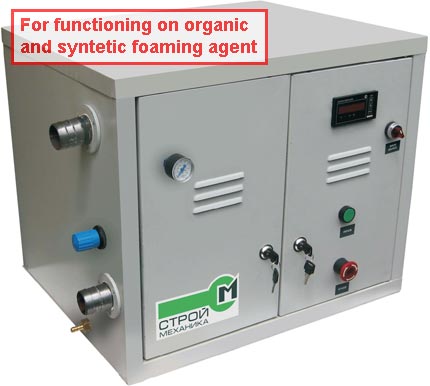 Semiautomatic universal foam generator TRITON 5Ì ïðîèçâîäñòâà by production of machine building enterprise "Stroymechanika" is intended to receive fine-dispersed foam used for foam concrete production on cement or cement-lime binding material.
Foam generator TRITON 5Ì is made based on semiautomatic pump water batcher POTOK 8.150.
Foam generator TRITON 5Ì works with synthetic and organic foaming agents that is the considerable advantage as compared with its foreign analogues, as the application of synthetic foaming agents is much more economically profitable than application of foaming agents on protein base.
In the condition of constant increasing of cement prices it is very important for foam concrete manufacturers that the equipment used in production process was free readjustable, easy and understandable in operation, and allowed to produce cement with reduced cement factor at invariable high quality of ready product. Such characteristics as capacity and economy are important too.
In order to produce high quality non-autoclave foam concrete with low content of cement binding material the specialists of "Stroymechanika" company recommend to apply organic foaming agent based on protein by import and local production. The standard foam generator TRITON 5M is equipped with devices to adjust compressed air, revolutions of peripheral pump to receive more stable and qualitative foam. Applying the above mentioned devices as a part of foam generator TRITON 5M it is possible to adjust foam density, as well as mortar concentration and consumption depending on used raw material. Foam generator is equipped with embedded batching system made on base of pulse water counter and pulsed counter with output to be connected with automated complexes and production lines.
Semi-automatic foam generator TRITON 5Ì has varying capacity from 100 to 500 liters per minute and allows to make foam concrete by density of 200-1600 kg/m³ in vertical and horizontal mixers by volume of 0,08-2 m³.
Semi-automatic foam generator TRITON 5Ì is well recommended in operation with high-productive pouring device NOVOTEK 120 by production of machine building enterprise "Stroymechanika" intended to receive high-quality foam concrete according to double-stage technology at continuous mixing of preparing foam with cement-sand mortar.
Operation of foam generator:
The foaming agent is mixed with water in separate tank, then the prepared mortar is pumped in expanding module of foam generator TRITON 5M with help of peripheral pump. High quality foam come out at exit. The foaming module of foam generator is made from high quality rust-resistant materials. Foaming module is made by requested length and is filled with anticorrosive aggregate that consists of particles of several fractions. The aggregate fractions are settled in logical sequence.
The design of foam generator TRITON 5Ì is a unique one in applying of technical decisions.
Foam generators are tested on many production sites, and were showed to good advantage.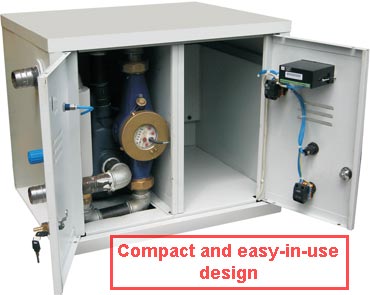 Competitive advantages of foam generator TRITON 5Ì:
Capacity up to 500 liters per minute allows to use foam generator as on small as on productive atomized complexes capacity up to 150 m³/shift;
Work with all types of concrete and mortar mixers makes foam generator universal in operation;
It works with synthetic as well as organic foaming agent that helps to produce more firm foam concrete block with application of organic foaming agents;
Presence of the regulation of density spume allows to produce material with using foaming agents any type and quality;
Due to adjustment of revolutions of peripheral pump it can reach the needed capacity of the foam generator;
High assembly quality of foam generator provides the long-term trouble-free operation of the unit;
The modern batching electric devices allow to integrate the units in automated complexes;
The work in manual and automatic mode allows to use foam generator with all types of launched equipment intended for foam concrete production.
Qualitative spare parts of European manufacturers proving the reliable and stable work of foam generator TRITON 5Ì:
peripheral pumps of (Italy);
multipurpose fittings of (Netherland);
frequency converters of (Germany);
components of control box of (South Korea);
pulse water counters (Germany);
control buttons of (Germany);
components of pneumatic system (Germany).
Technical characteristics
| | |
| --- | --- |
| Foam capacity, l/min | from 100 to 500 |
| Overall dimensions (L×W×H), mm | 1000×430×495 |
| Weight, kg | 50 |
| Power voltage, V | 380 |
| Power consumption, kW | 1,5 |
| Compressed air pressure, atm | 6 |
| Compressed air consumption, l/min | from 100 to 500 |
| Foaming agent consumption, l /m³ | from 0,5 to 0,9 |
| Foam density, g/l | from 20 to 200 |
Each client regardless of order volume receives technical and technological consultation concerning the foam concrete production.
Complementary services:
contract supervision of equipment;
putting into operation and adjustment works;
servicing of equipment.
Recommended optional equipment:
Compressor Ê 2;
Porous equipment NIVOTECH 8.500.
Optional equipment
Chemical agents

Video of the equipment in operation
Download video