Universal portable foam generator TRITON 2Ì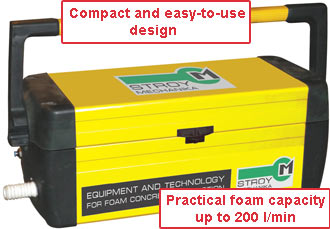 Universal portable foam generator TRITON 2Ì by production of the engineering enterprise "Stroymechanika" is intended to receive fine-dispersed of different ratio used in foam concrete production based on cement or cement-lime binding material.
Foam generator TRITON 2Ì works with synthetic and organic foaming agents that is the considerable advantage as compared with its foreign analogues.
In order to produce high quality non-autoclave foam concrete with low content of cement binding material the specialists of "Stroymechanika" company recommend to apply organic protein foaming agent by import and domestic production. The standard foam generator TRITON 2M is equipped with devices to adjust compressed air consumption, air pressure, the consumption and pressure of foaming agent to receive required by quantity and density foam. Applying the above mentioned device as a part of foam generator TROTIN 2M it is possible to adjust foam density, as well as mortar consumption depending on used raw material.
The capacity of foam generator TRITON 2Ì varies from 60 to 200 liters per minute and allows to make foam concrete by density of 200-1600 kg/m³ in vertical and horizontal mixers by volume of 0,08 - 2 m³.
Operation of the foam generator
The foaming agent is mixed with water in separate tank, then the ready mortar is pumped in expanding module of foam generator TRITON 2M with help of peripheral pump. High quality foam come out at exit. The foaming module of foam generator is made from high quality rust-resistant materials. Foaming module is made by specially designed length and diameter and is filled with inert irreplaceable filling agent with limited service period. This aggregate allows to get any required foam density and ratio.
The design of foam generator TRITON 2Ì has no analogues regarding its characteristics and technological decisions.
The main advantages of this unit are compact dimensions and small weight, as well as low price in comparison with foam generators of other manufacturers.
Competitive advantages of foam generator TRITON 2Ì:
Capacity from 60 to 500 liters per minute allows to use foam generator as on small as on productive automatic production lines capacity up to 100 m³/shift.
Work with all types of concrete and mortar mixers makes foam generator universal in operation.
It works with synthetic as well as organic foaming agent that helps to produce more firm foam concrete block with.
It allows to receive stable qualitative foam based on both synthetic and organic foaming agents.
Due to possibility to adjust foam density it allows to produce material based on any types and quality of foaming agents.
High quality in assembling of foam generator and its components provides its long service period.
Compact overall dimensions allow to transport foam generators in hands.
Low power consumption and low pressure consumption allow to use foam generator TRITON 2Ì in any conditions.
Qualitative components of European manufacturers provide stable and reliable operation of foam generator TRITON 2M:
- (Italy) peripheral pumps;
- (Germany) control buttons.
Foam generator composition TRITON 2Ì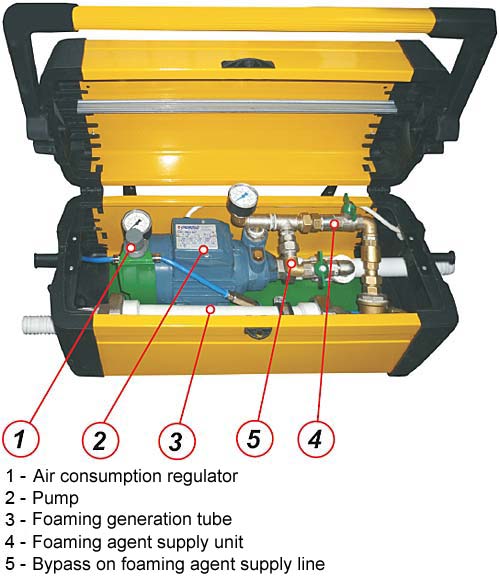 Technical characteristics
| | |
| --- | --- |
| Foam capacity, l/min | from 60 up to 200 |
| Overall dimensions (L×W×H), mm | 800×250×270 |
| Weight, kg | 19 |
| Power voltage, V | 220 |
| Power consumption, kW | 0,37 |
| Compressed air pressure, atm | 3-5 |
| Compressed air consumption, l/min | from 50 up to 150 |
| Foaming agent consumption, l/m³ | from 0,5 up to 0,9 |
| Foam density, g/l | from 50 up to 200 |
Each client can receive technical and technological consultation how to receive foam concrete not depending on order volume.
Recommended optional equipment
Chemical agents