Polypropylene fibre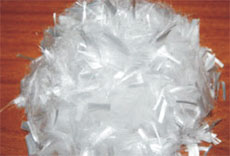 Multi-filament polypropylene fibre is used as a dispersed-reinforced agent in all types of cement mortars, when it is necessary to prevent the formation of strain crack, appearing due to mechanical influence or shrinkage (potting floor, floor pouring, cement covering, filling the curbs), as well as in case of need to increase strength of concrete articles.
Polypropylene is an inert raw material stable towards acids, alkali and salts, is the most appropriate material for its use in cement mixes as a reinforcing agent. The excellent mixing ability ensures it uniform spreading in concrete and its reinforcement through all volume. The fibres improve mix characteristics, provide as primary as secondary reinforcement (at use of antishrink steel net) and especially the shrinkage control. The polypropylene fibre reduces considerably the crack formation at early shrink stage, whereas the antishrink steel net functions to reduce the shrink cracks development on the bracing wire surface and material support with already done cracks.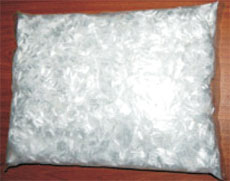 The adding of fibres of 0,6 kg/m³ - 2 kg/m³ into concrete at batching reduces the cracks formation at plastic shrinkage up to 90%, improve impact strength, abrasion and frost resistance, thereby providing the high concrete durability.
The majority of builders met often with many concrete problems, such as dust, plastic shrinkage and subsidence, low temperatures, and at the further exploitation such features as low stability to be frozen /thawed, low resistance to impact, susceptibility to abrasion, penetration of water and chemicals are shown. The numerous investigations in the given area did not give the necessary result. The revolution was taken place just when the polypropylene fibres occurred in the market of construction agent for concrete and building mortars. In the construction industry different types of fibres (organic and inorganic), basically to improve mechanical operational characteristics and to reduce the risk of cracks occurrence due to plastic shrinkage are used already for many years.
The concrete with polypropylene fibers is steadier to strokes and splitting in 5 times in comparison with usual concrete. The application of fibre at small rate of application raises the concrete dusting in 40 %. At fiber introduction into concrete the permeability and water absorption are reduced. The water, dirt and chemical agents are absorbed more slowly, the frost resistance, bending strength increase.
Application field.
The fibre is used in all types of cement mixes where it is necessary to prevent the shrinkage cracks formation:
foam concrete blocks, poured-in-place foam concrete;
floors, industrial surfaces, bracing wires (buckles);
concrete slabs of ceilings and foundations, reinforced piles;
presswork and casted articles;
printed artificial stone;
plasters, repair mortars;
bridges and cast-in-situ constructions.
Technical characteristics
| | |
| --- | --- |
| Material | polypropylene ÐÐ1362R (Z21S) |
| Type | multi-flament |
| Length of fibre, mm | 12 |
| Diameter of fibre, microns | 10-15 |
| Density, g/sm³ | 0,91 |
| Flex moduls, MPa, min | 1050 |
| Impact value, J/m, min | 25 |
| Total extension, max. % | 26 |
| Ignition temperature, °Ñ | 325-385 |
| Chemical durability | exceptional |
| Softening point, °Ñ, max | 120 |
The fibre is pristine.