Mortar mixing machine KORVET 300 OPTIMIX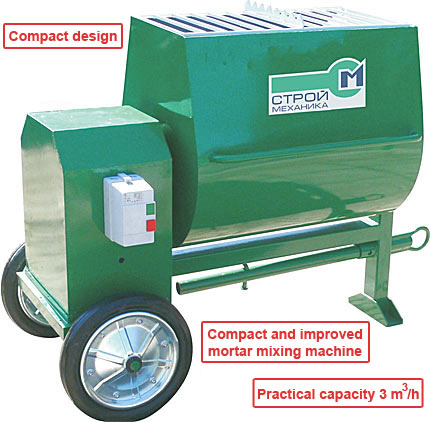 Mortar mixing machine KORVET 300 OPTIMIX by the production of machine building plant "Stroymechanika" is intended to make plasters and masonry mortars applied on the building site, as well as to make high-quality mixes to be used in the production of paving tile, and ornamental concrete elements. Applying mortar mixing machine the preparation of mix with aggregate size of 5 mm is possible.
The compact overall dimensions and small weight of the mortar mixing plant allow to work with it just too close from the application place of ready mortar. The mortar mixing machines "KORVET" operate on production areas, construction sites, and inside the working shops too. Mortar mixing machines are supplied ready for operation, oiled, and with adjusted clearances of operating blades.
The mixing of components is made by mixing device which represents a shaft with blades installed on it. The design of mixing blades of mortar mixing machine helps to make multicomponent homogeneous mortars as quick as possible, and helps to reach the optimal discharge speed of ready mortar. The configuration of mixer's blades allows to work as quick as possible with mixes of different density and mobility, as well as to prepare multicomponent building mortars. Mortar mixing machines of KORVET series are easy to move around construction site or other territory due to pneumatic wheels, they are equipped with supporting foots with adjustable working weight.
The design of mixer's tank and quick-release activator's shaft of composite construction restricts the service and repair period of mortar mixing machine, the adjustment of blades offset helps to clean the mixer's walls as full as possible.
The characteristics above mentioned certify about excellent operational features of mortar mixing machine KORVET 300 OPTIMIX, its high productivity and reliability.
Competitive advantages of mortar mixing machine KORVET 300 OPTIMIX:
Rigid welled wheel-mounted frame allows to easy transport mortar mixing machine to the operating place.
Quick-release activator with possibility to adjust blades position.
The blades of mixing device wear-resistant facing and possibility to adjust clearance that increase a lot the activator's operation life.
Easy-to-use operating control elements make the work with mixing machine easier.
Easy-in-transporting: wheels and hitch make the transportation throughout building site easier and provide the excellent mobility.
The grill with knife to open bags with bulk materials: knives mounted on the grill to open bags make easier and accelerate the loading process of packed materials into mixing tank. The grill provides the good visual control as the preparation process of mortar can be observed through removing it.
Overall dimensions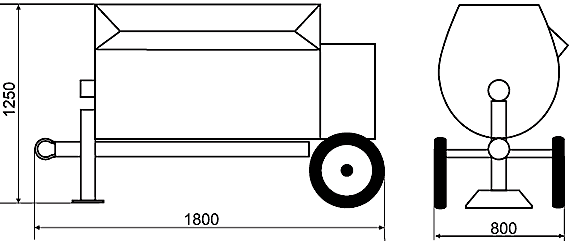 Technical characteristics
| | |
| --- | --- |
| Capacity, m³/h | 3 |
| Volume by loading, m³ | 270 |
| Volume of ready batch, m³ | 220 |
| Height of loading, mm | 800 |
| Mode of loading/discharge | manual |
| Aggregate size, mm, max | 5 |
| Rotational speed of operating elements, rev/min | 45 |
| Supply-line voltage, V | 380 |
| Power of electric motor, kW | 1,5 |
| Overall dimensions (L×W×H), mm | 1800×800×1250 |
| Weight, kg | 115 |
Mortar mixing machine KORVET are compact, reliable, simple units helping to make qualitative multicomponent mixes at minimal initial investments.