High accuracy metal moulds of series "LASERFORM"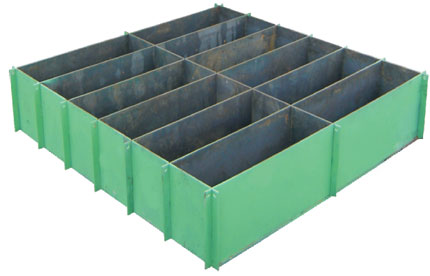 Metal moulds of series "LASERFORM" are designed to produce sized blocks from lightweight concretes (foam concrete, polystyrene concrete and etc.) and other materials.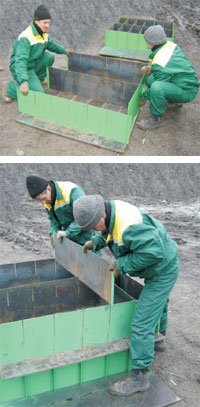 The distinctive feature of the given moulds is simplicity in assembly and disassembly, storage and transportation. The design of the mould allows to assemble and disassemble moulds quickly and easily as at production as immediately on the project site. The moulds consist of a bottom, in form of metal sheet 4 mm by thickness, and also lateral, face assembled walls and partitions. The partitions are made from the metal sheet 4 mm by thickness (depending on size of partitions) by means of the modern high-technology laser cutting equipment.
1. The moulds of series "LASERFORM" are assembled on preliminary prepared plane firm surface.
2. All the mould parts should be oiled with the grease solution to prevent the sticking of the moulded product to mould walls before assembling.
3. At first put the bottom made from the metal sheet or water resistant veneer on the base.
4. Then install the central inner partition the grooves up on the bottom. The next step is to set up the perpendicular partitions and face walls into the prepared grooves.
5. Then the lateral walls are set into the prepared grooves of the partitions and face walls.
6. The mould is ready for operation
7. The prepared foam concrete mix feels the assembled mould, the excess mix are removed by putty knife or other flat instrument.
8. To same production area the molds are installed one under another, for this purpose the metal pallet on which the following mould is assembled, is put on the first mould filled with mix.
9. So, they recommend assembling up to four rows of moulds.
After the moulds are completely disassembled, it is necessary to remove excess material from its paying special attention to the grooves cleanness. The storage of the moulds between their uses should provide the absence of the mechanic deformations and negative environmental influence.
The advantages of the moulds of series "LASERFORM":
Low price.
Manual dismantling of shuttering.
Easy in use.
Excellent shape of ready products.
Saving of production areas.
Stages of the assembly of the mould




Technical characteristics
| | |
| --- | --- |
| Model | Volume, m³ |
| LF-12-60.30.20-OP | 0,43 |
| LF-20-60.30.20-OP | 0,72 |
| LF-24-60.30.10-OP | 0,43 |
| LF-40-60.30.10-OP | 0,72 |
| LF-18-40.20.20-OP | 0,28 |
Interpretation of the model (LF - Q - L×M×N - O):
LF — mould of series "LASERFORM"
Q — quantity of blocks in a mould
L×M×N — dimensions of ready block in cm.
O — options:
OP — mould on open pallet.
Optional equipment
Chemical agents