The automatic water pump batcher POTOK 8.150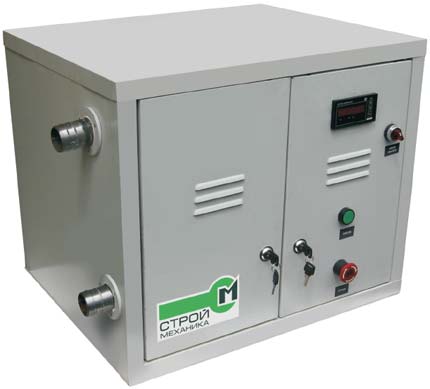 The automatic water pump batcher POTOK 8.150 by the production of machine building company "Stroymechanika" is intended for water and liquid batching in volume 1-999 liters and its pumping through pipeline to the working place.
Batcher POTOK 8.150 is operated in manual and automatic control mode. There is a connector RS 485 on the pump frame in order to connect the water pump batcher to external automatic control system.
The control of pump batcher is made from external panel, where the control buttons of pump batcher are located, as well as the front panel of batching system. The automatic water pump batcher POTOK 8.150 is made from qualitative and reliable components.
The automatic water pump batcher POTOK 8.150 includes a water self-priming pump of Italian company PEDROLLO capacity of 150 liters per minute, electric pulse meter, electromagnetic valve, and pulse water meter.
Electronic pulsed counter is intended to register the quantity of electric pulses entering form pulsed water counter, compare its quantity with presetting value and generate signal for electromagnetic valve control or water pump. Pulse water meter of the German company WEHRLE is intended for generation of electric signal after the water flows through its measuring area. The electromagnetic valve of Holland company ASCO-Joucomatic is intended to cut off the water-supply network in inactive state and to open it at voltage supply to valve spool.
The production complexes of series "HYACINTH" and production lines "StroyFoamConcrete" designed on its base, as well as mixers of series "DELTA" and production lines "StroyPolyConcrete" are furnished with automatic water pump batchers.
The complete of production of construction and other branches of industry with any automation level with pump batchers POTOK 8.15 is possible too.
The distinguishing characteristics of pump batcher POTOK 8.150:
high batching accuracy;
simplicity in operation;
universality in use;
use of qualitative components of well-known manufactures:

Technical characteristics
Maximal water dose per one cycle, l
999,9
Minimal water dose per one cycle, l
1
Minimal flow at batching, m³/h
0,5
Nominal flow at batching, m³/h
2,5
Maximal flow at batching, m³/h
5,0
Relative error, %
±2,5
Power tension, V
380
Frequency, Hz
50
Water pressure in pipeline, MPa (kgc/sm)
- max
- min

1,0 (10)
0,3 (3)
Water temperature, °C
5-45
Internal diameter , mm
20
Overall dimensions of electric counter with preselect (L×W×H) max, mm
120×120×60
Overall dimensions (L×W×H), mm
1000×430×395
Installed power, kW
1,1
Weight, kg
30
Capacity, l/min
100