High accuracy metal moulds of series "PROFI"
(for manual mould removal)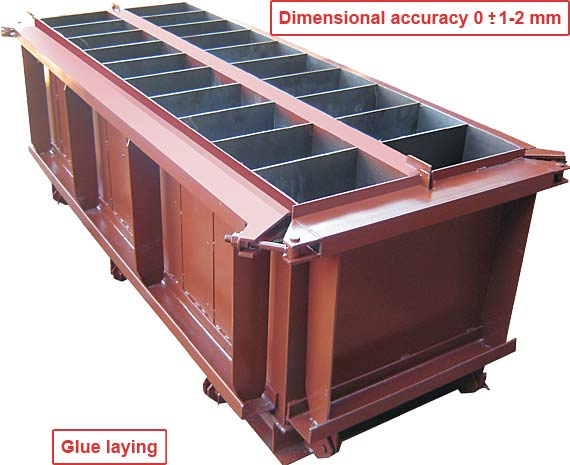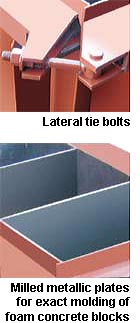 High accuracy moulds of series "PROFI" by the production of engineering enterprise "Stroymechanika" are intended for molding of qualitative, ideal shaped foam concrete blocks and partitions. foam concrete cassette high accuracy mould of series "PROFI" provides the dimensional accuracy of products 0±1-2 mm due to its design special features and absolutely smooth surface that makes possible a glue or thin joint laying of mortar of 2-3 mm by thickness.
The high accuracy moulds of series "PROFI" are distinguished by easy in assembly and disassembly, storage and transportation. The mold design allows to assemble and dissemble molds as in the production, as just on construction site. The mould includes lateral walls, a bottom and partitions. The boards are made from solid rectangular section tube and sheet metal of 4-5 mm by thickness. The bottom is welded from channel and sheet metal of 5 mm by thickness, has some stiffening ribs to provide smooth surface of bottom foundation that helps to mold articles without serious deviations. The walls are fixed with bottom with help of reinforced hinges that make possible to assemble and disassemble mould even after thousands of cycles operation.
The partitions are made from the sheet metal of 4-5 mm by thickness (depending on size of partitions) by means of the modern milling machine.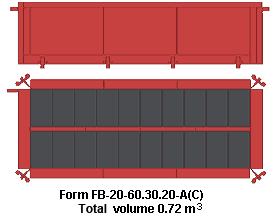 Mould drop sides are connected with help of quick locking fixing arms. The drop sides make the operation with mould easy and effective just in the conditions of strict saving of production areas. The mouls has maximum easy-to-use design, it assemble and disassemble easily and served by two workers. The resistance to external effects guarantees its operating life.
Overall dimensions depend on quantity of sections in a mould. Weight of a mould is 800-1500 kg. Form removal, of this molds is made by disassembly of partitions and opening boards without overhead beam.
The advantages of the moulds "PROFI":
low price;
manual dismantling of shuttering;
easy in use;
excellent shapes of ready products.
Optional equipment
Chemical agents