Screw mortar pump SOSNA 4.200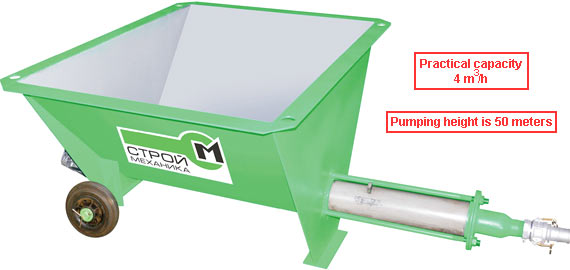 The screw mortar pump SOSNA 4.200 by production of the machine building enterprise "Stroymechanika" is intended for pressure pumping of the plastic mixes and light-weight concretes (foam concrete, polystyrene concrete), and liquid and pasta-like masses and suspensions with fibres or solids by dimensions up to 5 mm. Screw mortar pumps of series "SOSNA" relate to rotary rotated (gyratory) mechanisms. The operating parts represent a screw pair with internal toothing The fixed element of operating pair, a single-thread screw (rotor), makes planetary motion in the yoke (stator).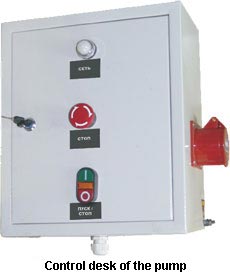 The yoke has a double-threaded screw surface with step in two times more than the twist. Contacting constantly, the yoke and a screw create some close cavities through the length screw-yoke. At screw rotation the suction cavity enlarges by volume and causes the exhaustion. The material to be transported enters the cavity under the exhaustion force. The following rotation of the screw conveys the cutoff volume of transported substance into pumping area. At the specified rotating frequency the speed of the substance to be conveyed (pump capacity) is constant, as the initial section by the screw and yoke is invariable.
The screw mortar pumps SOSNA 4.200 are used in eth production line AMK "StroyPolyConcrete" and AMK "StroyFoamConcrete" at the conveying of ready concrete mix from mixing plant to the moulding tooling. The mortar pumps SOSNA 4.200 are used on the building sites too together in pairs with mixers of series "SCAUT", series "COMPASS SUPERMIX" and turbulent mixers of series "NAVIGATOR" to make floors, make warmer roofs, as well as to fill in moulds with ready mix.
The competitive advantages of screw mortar pumps of series "SOSNA" 4.200:
simple and reliable design;
feed hopper of volume of 200 liters;
application of high-capacity and reliable gear motor as a drive;
qualitative gyratory (screw) pair;
quick-disconnecting joint KAMLOCK in standard set.
Components of the mortar pump SOSNA 4.200:
gear motors of CHIARAVALI TRANRANSMISSIONI company (Italy);
qualitative screw (gyratory) pair;
OEM components of famous manufacturers: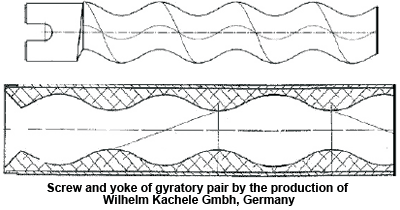 Technical characteristics
Capacity, m³/h
up to 4
Feed hopper's volume, l
200
Practical pumping distance, m
- vertical
- horizontal

up to 50
up to 200
Power consumption of the motor, kW
5,5
Rotating frequency of the screw, rev/min
187
Power, V
380
Overall dimensions (L×W×H), mm
1860×1050×610
Weight, max, kg
350
Overall dimensions

Screw (gyratory) mortar pump SOSNA 4.200 is the combination of high reliability and productivity at maximum ease of operation