Screw (gyratory) mortar pump SOSNA 7.300/500/1000 PROFESSIONAL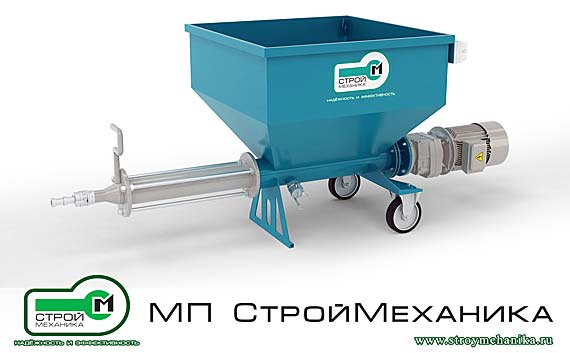 The foam concrete, polystyrene concrete, sticky and abrasive masses pouring into molds, formwork or some other place at long distance can be made by method "tap-skip". It is enough to observe technological compliance of the method with transport facility.
Nowadays by development of construction technology such a method went out of date and is not used in today building industry as a builder demands capacity at first, secondly the mechanization of the process with low labor expenditures.
he engineering enterprise "Stroymechanika" using the advanced technology and being one of leading manufacturers of construction equipment offers a screw (gyratory) mortar pump SOSNA 7.300/500/1000 PROFESSIONAL. The screw (gyratory) mortar pump SOSNA is a choiceless equipment for pumping sticky and abrasive masses, materials that are differed by density (form concrete, polystyrene concrete), cellular concrete mixes, and also pressure pumping of compound multicomponent mixes sensible particularly to mechanic effect, liquid and sticky masses and suspensions with fibres or solids that provides the multifunctional use of such construction equipment.
The screw (gyratory) mortar pump "SOSNA" contains a bin to accept material from mixing unit. The feed bin of the mortar pump helps to convey material continuously at use of the batch mixing equipment that is very important at performance of works, where the shutdown is undesirable or inadmissible at all (at mechanical plaster application, filling of moulds etc.). To make easy the transportation of mortars pumps through building sites the pump units are often equipped with wheel chassis.
The gyratory pair and feed screw are main parts of the feeding part of screw mortar pumps. The moving element of working pair is a single-thread screw (rotor), that makes a differential motion in the yoke (stator). Being in contract contact the yoke and a screw create some closed cavities by length "screw-yoke". At screw rotation the sanction cavity is enlarged by volume and the exhaustion is created in it, the cavity is filled with transported medium under exhaustion. This design helps to transport plaster, foam concrete, polystyrene concrete mortars very carefully. The screw mortar pumps at compact overall dimensions provide high efficiency of construction works.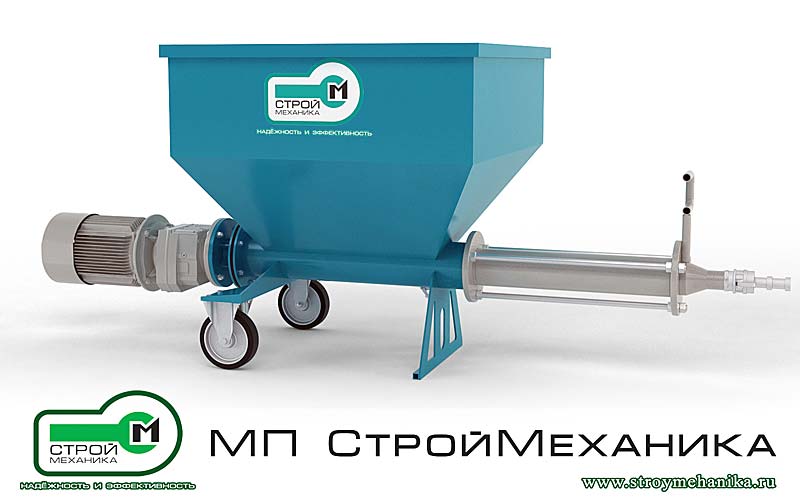 The majority of construction screw mortar pumps intended for continuous work with great volumes of sticky and compact mortars, are equipped with gear motors, capable to transfer rather high torsion torque. The capacity of mortar pump drive depends first of all on the required pressure (the pressure determined the distance and height of material supply, ÌPa) and supply (material volume pumped per unit time, m³/hour), and also on viscosity and density of the pumped material. The gyratory mortar pump SOSNA 7.300/500/1000 is equipped with gyratory pair made by the leading world manufacturer - Wilhelm Kaechele GmbH (Germany) company. The gear motors of SITI spa (Italy) well approved in different exploitation conditions are used as a drive.
But there are some restrictions in application of screw mortar pumps. Thus, such mortar pumps do not works with mixes with aggregate size more than 8 mm. the supplied mixes should be rather active, in other case the creation of mortar plugs in the concrete pipeline became possible, and the capture of mortar by feed screw became difficult too.
Beside the stiffened mix cause the accelerated wear of gyratory pair. It should observe some rules at exploitation of screw mortar pumps SOSNA to avoid it: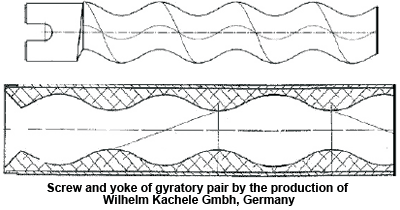 Never start the mortar pump without material, as the material operates as a lubricator of rotor and stator. If you start mortar pump without material, after that it should replace pair, as it will not serve more than some minutes.

Water is not a good grease matter, as solution, thus, the cleaning of screw or gyratory pair should be made with disconnected mortar hoses. Wash out mortar hoses with water.

Use the required length of mortar hoses, and no more. Extend mortar hoses in order to reduce pressure and load on screw or gyratory pair.
Competitive advantages of mortar pumps "SOSNA":
Low operating cost.
Safety in exploitation.
Easy in maintenance.
Capacity up to 7 m³/hour.
Quick-disconnecting joint KAMLOCK in standard set.
OEM components of famous world manufacturers:
- Gear motor of (SITI S.p.A, Italy);
- Quick-detachable joints KAMLOCK of (CUPLA).
Overall dimensions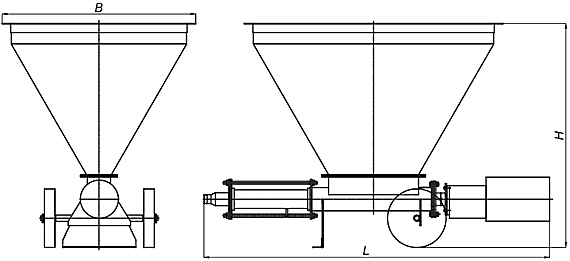 Technical characteristics of mortar pump
Parameter
SOSNA 7.300
SOSNA 7.500
SOSNA 7.1000*
Capacity for mortar flow of 10 cm and more (specified in GOST 5802-86), m³/h
7
7
7
Pressure, Bar
25
25
25
Practical pumping distance, m
- horizontal
- vertical

200
50

200
50

250
50
Diameter of pressure pipeline hose, mm
50
50
50
Rated output, kW
11
11
11
Circuit
alternating current three phase
alternating current three phase
alternating current three phase
Current frequency, Hz
50
50
50
Tensions, V
380
380
380
Bin volume, l
300
500
1000
Admissible maximal inclusions size, no more, mm
10
10
10
Standard overall dimensions (L×B×H), mm
2364×852×1100
2364×1164×1425
2364×1324×1529
Weight, kg
100
125
180
* - stationary
Gyratory mortar pumps "SOSNA" is a machine adopted as mush as possible to real conditions of domestic building, large range of characteristics of pressure/pumping, volume of feed bin and drive power, and a packaging arrangement from world leading manufacturers.