Gripping device (grab) for cellular concretes
(foam concrete, polystyrene concrete)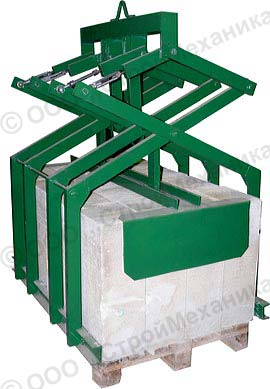 The cellular concrete products, processed on the cutting (sewing) complex URK MASTER PLUS or similar one are needed to be transported to the finished products storage area, as well as to be handled around the shop territory. The engineering enterprise "Stroymechanika" offers a gripping device for cellular concrete articles (foam concrete, gas concrete) for such operations.
The gripping device for cellular concrete articles has a self-tied design and can be adjusted. The gripping device is used with lifting device or overhead runway beam. They help to move the gripping device on the shop territory. The gripping device is brought to the products to be transported, the locking device is released and at lifting the lateral grips (walls) of the gripping device grabs the products. After moving of products to the necessary place establish a fixing lug, and grasp moves to an initial position. After the articles are transported to the required place, the fixing device is installed, and the gripping device returned back to the start position.
The competitive advantages of the gripping device:
the uniform distribution of gripping force through all area of the lateral wall of the sawn foam concrete mass that allows to remove the sawn block from the technological pallet earlier;
the keeping of sawcut geometry of the processed foam concrete mass;
the adjusting function over the wide range allows to move non-standard products.
Technical characteristics
| | |
| --- | --- |
| Transported product | Foam concrete mass |
| Overall dimensions of the mass (L×W×H), mm | 1200×1200×600 |
| Weight of the mass, kg | up to 800 |
| Overall dimensions of the article (L×W×H), mm | 1300×1500×1300 |
| Weight of the of the product, kg | 800 |
| Gripping range, mm | 300-1300 |
| Maximum lifting weight, kg | 1200 |
| Minimum lifting weight, kg | 100 |