Metal moulds FORMBLOCK MASSIVE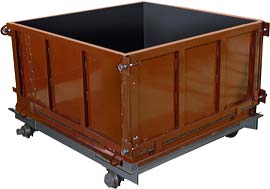 Metal portable moulds "FORMBLOCK MASSIVE" by the production of the engineering enterprise "Stroymechanika" are intended for molding of light-weight dimensional blocks (foam concrete, polystyrene concrete and etc.) and other materials.
The moulds "FORMBLOCK" are distinguished by easy in assembly and disassembly, storage and transportation. The mold design allows to assemble and dissemble molds as in the production shops, as just on construction site. The mould includes lateral walls, a bottom and partitions. The boards are made from rigid tube of rectangular section and sheet metal of 4-5 mm by thickness. The bottom is welded from channel and sheet metal of 5 mm by thickness, has some stiffening ribs to provide smooth surface of bottom foundation that helps to mold articles without serious deviations. The walls are fixed to the bottom with reinforced hinges that make possible to assemble and disassemble moulds even after thousands of cycles operation.
The technological pallet of metal molds FORMBLOCK MASSIVE includes a metallic frame with a veneer list attached to it. The veneer sheet has special holes that allow not to damage strings at foam concrete cutting.
To cut massive received with help of metal molds the cutting plant URK MASTER PLUS or its analogues are applied.
Overall dimensions of articles (massive) produced by metal mold FORMBLOCK MASSIVE application are 1200×1200×600 mm. The total volume of a block is 0,86 m³.
Competitive advantages of moulds FORMBLOCK MASSIVE:
low price;
manual and mechanized dismantling of shuttering;
easy in use;
good dimensions of ready products;
saving of production areas.
Technical characteristics
| | |
| --- | --- |
| Overall dimensions if the block (L×W×H), mm | 1200×1200×600 |
| Quantity of articles in a mold, pc | 1 |
| Working volume of a mold, m³ | 0,86 |
| Overall dimensions of a mold (L×W×H), mm | 1320×1320×930 |
| Weight of a mold, kg | 450 |
Optional equipment
Chemical agents