Foam concrete production line SUPERMIX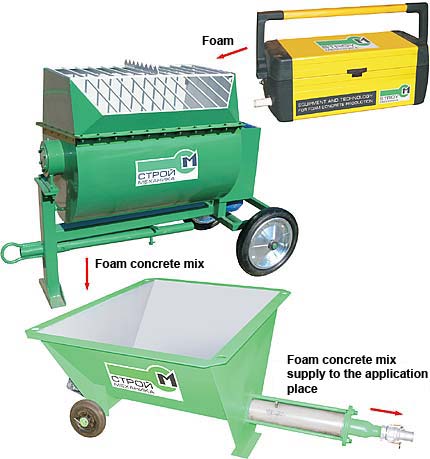 The foam concrete line SUPERMIX by the production of engineering enterprise "Stroymechanika" is intended to make foam concrete by density from 300 to 1200 kg/m³.
The compact overall dimensions and small weight of the help to use it not only to make foam concrete blocks, but to make cast pouring of heating layers of foundations, walls, and partitions just on the building sites.
The components are mixed with help of mixing device that represents the belt mechanism allowing to solve task of qualitative mixing of foam concrete mass. The application of manual drive of the overturn of mixer's tank allows to reach the optimal speed of ready mix unloading.
To produce high-quality non-autoclave foam concrete with low cement binding material ratio the specialists of the engineering enterprise "Stroymechanika" recommend to use organic protein-based foaming agent RELAN as well as foaming agent of other brands. The foam generator TRITON 2M is used as a part of the production line to get foam of required quality and density. Applying the above mentioned foam generator the foam density is adjusted as well as mortar consumption depending on the used raw material.
The screw mortar pump SOSNA 4.200, that is a part of the line SUPERMIX,is intended to feed the ready foam concrete mix from mixing plant to moulding plant at flooring and heat-insulation of roofs as well as pouring of ready mix into moulds.
Competitive advantages of the line:
Application of the components of well-known world manufacturers provides the reliability of the line: components of air-operated drive of (FESTO, Germany), gear motors of (CHIARAVALLI TRANSMISSIONI, Italy), components of control chamber of (LG, South Korea), (ABB, Germany), logical controller of (ÀBC-ÌÊ, Russia);
High price favours the quick payback of the line;
Universality to applied raw material allows to work with different materials;
Low power consumption saves considerably the electric power;
High capacity provides the production efficiency;
Autonomy of the line helps to work with the line directly on the building site;
Short putting into operation period allows to start the production release and sale of products as soon as possible;
Foam concrete production of low investment;
The belt mechanism allows to solve task of qualitative mixing of light-weight concretes.

Composition of the line SUPERMIX:
¹
Designation
Technical characteristics
Quantity, pc.
1
Mortar mixer KORVET 300 SUPERMIX
Overall dimensions 1800×800×1250 mm
Weight 115 kg
1
2
Universal mobile foam generator TRITON 2Ì
Overall dimensions 800×250×270 mm
Weight 19 kg
1
3
Screw (gyratory) mortar pump SOSNA 4.200
Overall dimensions 1860×1050×610 mm
Weight 135 kg
1
Technical characteristics
| | |
| --- | --- |
| Capacity, m³/h | 3 |
| Loading volume, m³ | 270 |
| Volume of ready batch, m³ | 220 |
| Loading height, mm | 800 |
| Loading/unloading mode | manual |
| Aggregate size, mm, max | 5 |
| Rotation speed of working parts, rev/min | 45 |
| Power voltage | 380 V |
| Electric motor power, kW | 1,5 |
| Overall dimensions (L×W×H), mm | 1800×800×1250 |
| Weight, kg | 115 |
The line is supplied with:
- maintenance manual;
- engineering schedule for making articles on the plant SUPERMIX;
- staff training to wok with the equipment