Turbulent mixer NAVIGATOR 150
(application of active pneumatic protection unit NAVIGATOR TULA 2)

Video of the equipment in operation
Download video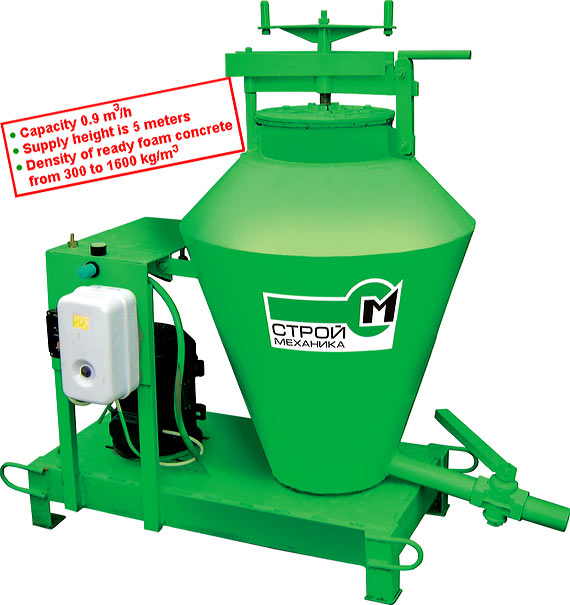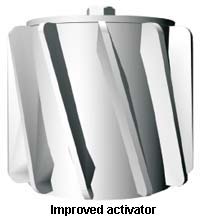 The turbulent mixer NAVIGATOR 150 by production of machine building company "Stroymechanika" is intended for foam concrete production of density from 300 to 1600 kg/m³ and its conveying to the laying place through concrete pipeline. It allows to underpour floors and roofs, filling hollows, production of blocks of different dimensions and density.
Turbulent mixer NAVIGATOR 150 includes immobile barrel-shaped tank with the cone bottom fixed on the frame, a blade rotor – activator, located on the bottom of the tank, electric motor and drive pulleys. Control elements of the mixer together with a device of air adjustment are concentrated on control that is fixed on the mixer's frame.
The improved activator relating to the type NAVIGATOR TULA is installed in the turbulent mixer NAVIGATOR 150. A new system of active pneumodynamic protection NAVUIGATOR TULA 2 is applied. The enlarged turbulent activator improved blades location on the activator, interacted hydraulically and dynamically with immobile blades located on mixer's walls allowed to reach more homogeneous aeration of mix and, accordingly, more stable characteristics of ready mix as well as to enlarge density range of ready foam concrete . The enlarged gate helps to load mix components in plant's working tank quickly and easily.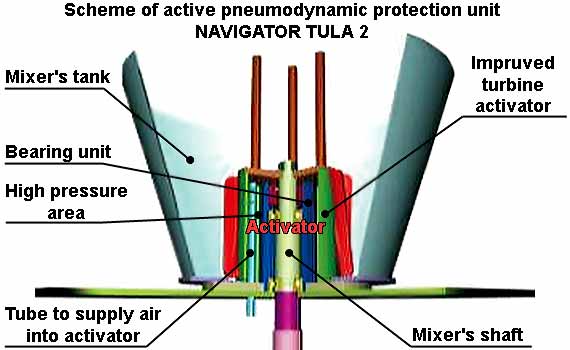 Activation of foaming agents in mixer NAVIGATOR 150 takes place due to high rotation speed of activator located in the bottom of mixer's tank. This allows not to use foam generator at foam concrete production.
The turbulent method based on creation of high velocity gradient, favours the uniform distribution of agents and impurities (fibre, pigments, plasticizing agents) in preparing mix.
Due to simple design and good operating characteristics the turbulent mixers of series "NAVIGATOR" are widely used by manufacturers of building materials. Some limitations of are more than compensated for by high mixing speed, easiness in maintenance of the plant.
Turbulent mixers of series "NAVIGATOR" allows to produce qualitative material and receive constant results from batch to batch. The material produced on these mixers, corresponds to GOST 25485-89 and have density from 300 to 1600 kg/m³.
Competitive advantages of the turbulent mixer NAVIGATOR 150:
Unit of active pneumodynamic protection NAVIGATOR TULA 2.
Compact overall dimensions.
Quick pay back.
Easy in maintenance.
Application of qualitative components of well known world manufacturers:
FESTO components for pneumatic system, ERLIN electric components.
Technical characteristics
Overall dimensions (L×W×H), mm
1300×800×1300*
Weight, kg
215
Power consumption, kW
3
Working air pressure, atm
0,65
Air consumption, l/min
160
Power, V
380
Working tank volume, l
150
Capacity at the non-autoclave foam concrete production at manual loading, m³/h
0,9
Foam concrete production cycle, min
3-6
Distance of mix supply
- horizontally, m
- vertically, m

20
5
*possible to deliver in three tones container
The delivery set of turbulent mixer NAVIGATOR 150 includes:
technology of foam concrete production,
personal training,
mortar compositions,
complementary needed documentation,
5 meters of rubber hose for distance discharge of mortar.
Each client receives the technical and technological consultation upon questions of foam concrete production regardless of order volume. Buying a mixer for foam concrete mixing each client is provided with technological schedule on porous concrete (foam concrete) masses, with practical recommendations, basic requirements to used components, and test methods of received material.
Contract supervision
Putting into operation and adjustment
Optional equipment
Chemical agents

Video of the equipment in operation
Download video