Mobile universal foam concrete mixer NAVIGATOR V3 EXPRESS
(application of improved assembly of active pneumodynamic protection Navigator Tula II)

Video of the equipment in operation
Download video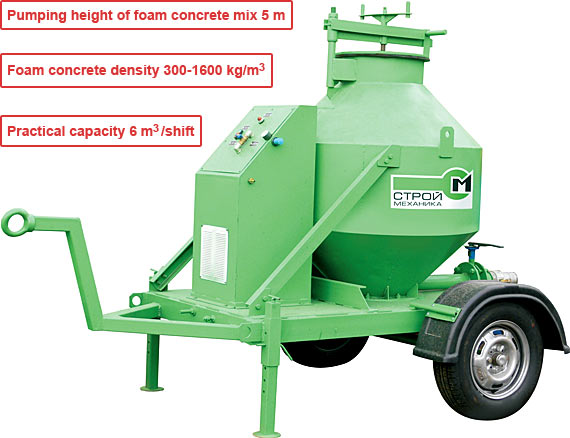 The technology of underpouring of foam concrete mortar in framework, filling the hollows, warmth keeping floors and roofs is used in construction industry more often. The foam concrete due to its low heat conduction, low water absorption, high fire resistance, and possibility to get mortars of different density is an ideal material to erect walling and ceilings in monolithic construction engineering.
The possibility to mix concrete mortar immediately on the building site, the low cost of the ready material, the possibility to pump mortar on significant distances and height, using not expensive concrete pumps of different types allow saying about the important role of foam concrete in the building works using the effective technologies of the modern house-building.
At the same time the mixing of the foam concrete on the building sites has some difficulties of both technical as technological character.
The mobile universal foam concrete mixer NAVIGATOR V3 EXPRESS by production of machine building enterprise "Stroymechanika" is intended to mix foam concrete of density of 300-1600 kg/m³ and to convey it to pouring place. It helps to underpour floors and ceilings, fill construction hollows on the building sites.
Designing foam concrete mixer the special attention were given to make foam concrete mobile and enlarged wear resistant. So, a mixer should have a minimal weight to move easily through building site, but in this case the intensity of use of the mobile equipment is much higher than the working load of the stationary plants. The operation of mixers during the twelve-hour shift as well as round-the-clock operation are not the exception, and better to say the rule at the construction. That means, at the reduced weight of the plant, its reliability should be on a par (or above par) with stationary mixers.
It is necessary to notice, that the majority of foam concrete mixers exploited in the conditions of building sites were initially designed as stationary plants. That's why they do not fully meet the requirements, made to the equipment operating in the difficult conditions of open building sites.
The competitive advantages of foam concrete mixer NAVIGATOR V3 EXPRESS:
Active pneumodynamic protection NAVIGATOR TULA II.
The mixer general frame on wheeled mover with use of wheels of large diameter.
Adjustable legs in standard set (outriggers) used for mixer's stability installing on building sites.
Easy control elements.
Application of qualitative components of well-known manufacturers: components of pneumatic system of ; electric components of .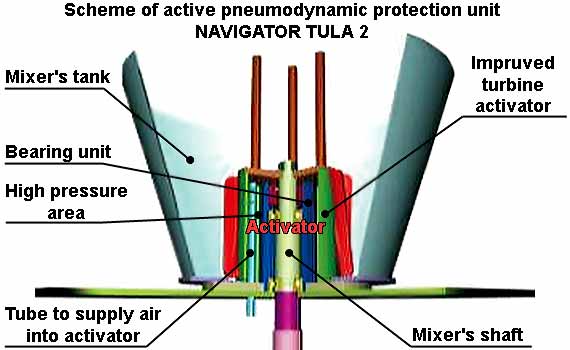 Technical characteristics
Overall dimensions (L×W×H), mm
1700 1900 2400*
Volume of working tank, l
500
Weight, kg
560
Power consumption, kW
7,5
Working air pressure, kg/cm
0,65
Capacity, m³/h
4,5
Supply-line voltage, V
380
Distance of mortar supply, m
- horizontally
- vertically

20
5
Radius of the wheel disks
R14
*delivery in three tone container is possible
The delivery set of foam concrete mixer NAVIGATOR V3 EXPRESS includes:
technology of foam concrete production, training of operation with mixer, mortar compositions, additional necessary documentation, 5 meters of rubber hose to pump mortar on distance, set of spare parts.
The technical consultation upon questions of foam concrete production is offered to each client regardless of order volume. Buying a mixer for foam concrete mixing each client is provided with technological schedule on porous concrete (foam concrete) masses, with practical recommendations based on demands to used components, test methods of received material.
Optional equipment
Chemical agents

Video of the equipment in operation
Download video