Mixing complex RBS 500 (1000) HYACINTH
(with embedded foam generator)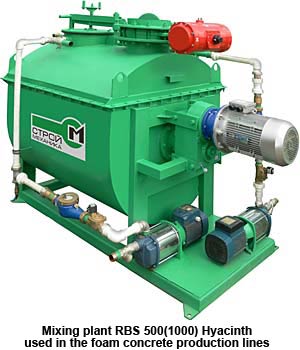 Mixing complex RBS 500(1000) HYACINTH by production of machine building company "Stroymechanika" is intended to mix foam concrete mortars of different density by method of separate preparation of mix components.
The semi-automatic highly-productive foam generator TRITON 5M integrated in mixing complex with a large possibilities to adjust characteristics of water-foam solution is a domestic product and a pride of the machine building enterprise "Stroymechanika". It allows to get the qualitative water foam solution with the possibility to regulate the foam density in the range from 20 to 300 gram/liter.
The application of the highly-effective circulating pump by production of

(«PEDROLLO», Italy) company, capacity not less than 8 m³ per hour, as well as the controlling in semi-automatic mode not only accelerate maximum the saturation process with water-foam mix, but make easier foam generator maintenance and allow to receive a water-foam solution with stable characteristics from batch to batch.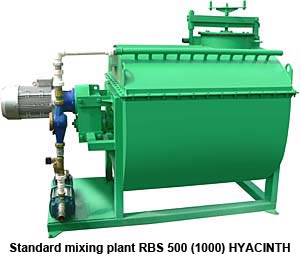 All mechanisms of mixing complex RBS 500(1000) HYACINTH are mounted on rigid welded frame. The control elements are arranged on the control rack and united in groups of the adjustment of mix components.
The hermetic housing of the mixer allows to unload the concrete mix at expense of excess pressure on distance trough the pipeline. And the injection device built in the relief branch pipe of the mixer mortar drive accelerates considerably the discharge and increases the distance of the mortar supply without the augmentation of the pressure in the mixer. The pressure gauge embedded in pneumatic circuit of the mixing complex allows to adjust air pressure as precise as possible at the mortar discharge. The above mentioned characteristics certify about the excellent exploitation properties of the complex RBS 500(1000) HYACINTH, its high automation and reliability.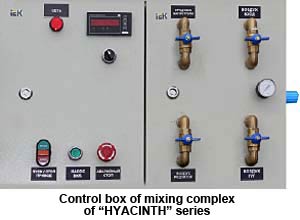 The design department of "Stroymechanika" Ltd improved successfully the mixing plant RBS 500 (1000) HYACINTH. A new compact and more qualitative gear motor of
(«MOTOVARIO», Italy) had been installed instead of wedge-belt drive. The design of mixing device has been improved too. The mixing of components is made with help of belt mixing device that allows to resolve problem of qualitative foam concrete mixing, to reduce mixing time, to apply the gear motor of lower power as a drive.
Based on mixing plant RBS 500(1000) HYACINTH the mixing foam concrete production systems "StroyFoamBeton" were designed. The mixing plants that are a part of automated systems "StroyFoamBeton" are equipped in addition with dick shutter with "PRISMA" (Italy) pneumatic drive, pressure valve and water batcher POTOK 8.150.

Competitive advantages of mixing complex RBS 500 (1000) HYACINTH:
Mortar mixer of series "RS", a part of mixing complex is great power and reliability reserve at light-weight foam concrete mortars production.
The modern pump foam generator TRITON embedded in mixing complex of series "HYACINTH".
Rigid welded frame, demountable mixer's bowl, quick-detachable activator with possibility to adjust blades position.
Easy of operation control elements.
Feed manhole of enlarge diameter to make easier the mixer's loading.
Integration of mixing complex in production lines with automated control system.
Application of components of well-known manufacturers:

(FESTO, Germany) components for pneumatic system,
(PEDROLLO, Italy) pump,
(WAMGROUP, Italy) sphincter valve,
(ÎÂÅÍ, Russia) pulse counter.
Technical characteristics
| Marking of the complex | RBS 500 HYACINTH | RBS 1000 HYACINTH |
| --- | --- | --- |
| Overall dimensions (L×B×H), mm | 1400×1200×1750 | 1750×1200×1850 |
| Volume of the working tank of the mixer, m³ | 0,5 | 1 |
| Model of the embedded foam generator | TRITON 5M | TRITON 5M |
| Air pressure in the mixer at the foam concrete discharge, kg/cm² | 0,65 | 0,65 |
| Range of densities of the ready foam concrete, kg/m³ | 300-1400 | 300-1400 |
| Order of foam, min | 14 | 14 |
| Range of foam adjustment, gram/liter | 20-300 | 20-300 |
| Capacity, m³/h | äî 5 | äî 10 |
| Weight in the non loading state, kg | 800 | 950 |
| Attending personnel, persons | 1 | 1 |
| Power consumption, kW | 7,5 | 11 |
| Tension of the power circuit, V | 380 | 380 |
The price includes: the foam concrete production technologies, stuff training, mortar compositions, 10 meters of rubber hose for distance unloading, set of spare parts additional documentations.
Optional equipment
Chemical agents