High speed universal mixer VECTOR 500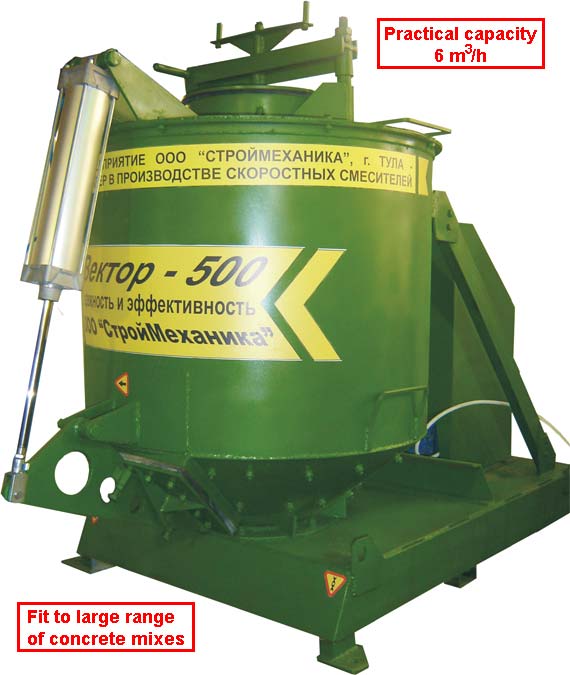 High speed universal mixer VECTOR 500 by production of machine building enterprise "Stroymechanika" is intended to prepare easily workable mortars and low-slump concretes with aggregate size up to 10 mm and foam concrete mixes of different densities. The design of the mixer allows to get foam concrete mortars with the reduced water content (reduced technological moisture), and concretes and foam concretes with fibre.
To discharge low-slump concretes (foam concretes) the mixer is equipped with a shutter with a pneumatic drive. The powerful mixer drive, additional idle pulleys allow to get the mortars of higher density. the devices of air preparation and the means of indicating light of network connection are mounted on the control box.
The activation of foaming agents in mixer VECTOR 500 takes place due to high rotation speed of activator installed in the bottom of mixer's tank. It allows not to use foam generator at the foam concrete production.
The turbine activator of the mixer is equipped with a device of an active pneumodynamic protection NAVIGATOR–TULA of the third generation. The general design of the high-speed universal mixer VECTOR 500 meets completely the high demands made to the modern mixing equipment. The principle of turbulent mixing itself based on creation of high velocities gradient favours the uniform distribution of different inclusions and agents (fibre, pigments, plasticizing agents) in preparing mortar.
The adjustable air blowing of prepared mix allows to receive mixes with different indexes of air entrainment. The regime of the intensified air blowing of the preparing foam concrete (expanded concrete) allows to lower considerably the synthetic foaming agent consumption.
Competitive advantages of the universal mixer VECTOR 500:
Assembly of active pneumodynamic protection NAVIGATOR–TULA 3.
§ Compact overall dimensions.
§ Quick pay back.
§ Easy in use.
§ Application of qualitative components of well-known world manufacturers: components of pneumatic system; electric components.
Technical characteristics
Overall dimensions (L×W×H), mm
2060×1060×1725
Volume of working tank, l
500
Supply voltage, V
380
Set power, kW
11
Weight, kg
510
Capacity,m³/h
- at manual loading
- at automatic loading

4
6
Production cycle of mortar, min
- at manual loading
- at automatic loading

5
3
The delivery set of high speed universal VECTOR 500 includes:
Technology of foam concrete production.
Personal training.
Mortar compositions.
Complementary necessary documentation.
5 meters of rubber hose for distance discharge of mortar.
Each client receives the technical and technological consultation upon questions of foam concrete production regardless of order volume. Buying a mixer for foam concrete mixing each client is provided with technological schedule on porous concrete (foam concrete) masses, with practical recommendations, basic requirements to used components, and test methods of received material.
Optional equipment
Chemical agents